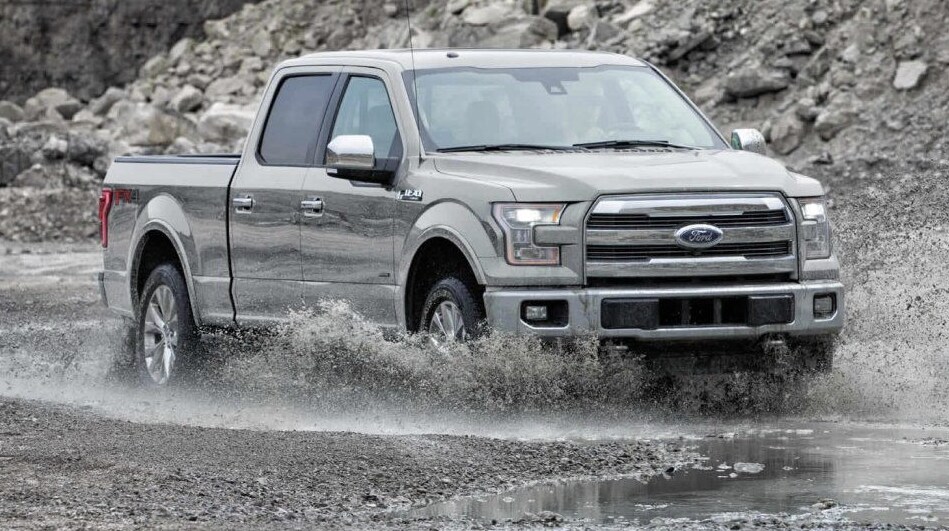 Riser Ford Lincoln in Hot Springs, Arkansas, has the 2017 Ford F-150 for sale.
The best-selling truck in America, the 2017 Ford F-150 is the king of work. The safest, most efficient full-size truck on the road, the Ford F-150 is durable, smart, and powerful. If the 2017 Ford F-150 sounds like it may be the right vehicle for you, continue reading to learn more!
Performance: Housing a standard 2.7L EcoBoost V6 engine, the Ford F-150 can produce 325 horsepower with higher trim levels cranking out upwards of 450 horses. The F-150 can tow up to six tons and can carry over 3,000 pounds. Along with excellent performance capabilities, the F-150 gets up to 24 miles per gallon on the highway, meaning you can work longer without having to worry about filling up.
Technology: Adding brains to the legendary brawn, the 2017 Ford F-150 is designed to allow you to work smarter and harder. Backup your trailer easily with the class-exclusive Pro Trailer Backup Assist. Use a knob and watch your display to make difficult trailer maneuvers a thing of the past. Stay connected to the world with the SYNC 3 system by Ford. Offering high-speed performance and Siri integration, Ford SYNC keeps the world at your fingertips.
Safety: Safety matters, and the Ford F-150 is the safest truck on the road. The only truck to receive the IIHS' Top Safety Pick rating, the Ford F-150 works to keep you safe while on the road or at the worksite. Featuring 31 safety innovations, Ford makes safety a priority.
If you think the 2017 Ford F-150 is the right truck for you, let us know! At Riser Ford Lincoln in Hot Springs, we want to help you find the perfect vehicle at a price that works! Speak with a member of our sales team to get all the info you need to make the right decision. Find your perfect truck today by stopping by the dealership, calling us at (844) 846-6956, or filling out our online form. Experience the difference today and get ready for Riser!
Riser Ford Lincoln is proud to serve as the premier Ford dealership in Hot Springs and the surrounding area, including Malvern, Bismarck, Benton, Hot Springs Village, Royal and the rest of the Diamond Lakes area.