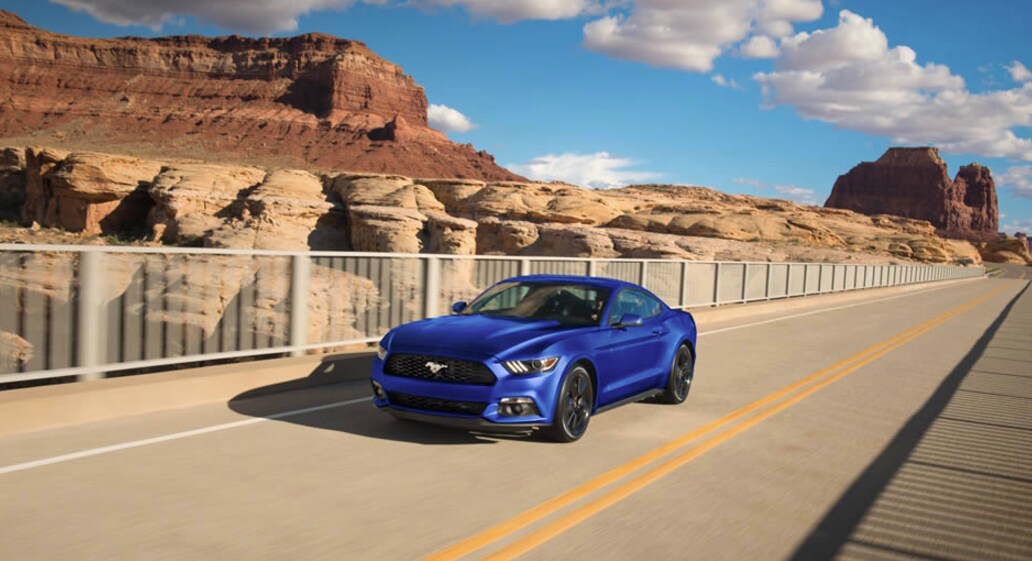 Riser Ford near Benton, Arkansas, has the 2017 Ford Mustang for sale.
An American icon, the 2017 Mustang builds on one of the most storied vehicle franchises in the world and improves for the new model year. Combining power, comfort, and technology, the 2017 Mustang is ready to take on the road. If you think the 2017 Mustang may be the right vehicle for you, keep reading to learn more.
Performance: Powerful by design, the 2017 Ford Mustang is ready to turn your daily drive into a thrill ride. With three engine options to choose from and a fourth in the Shelby GT350, you can choose the power of your Mustang. With 300 horsepower standard, you can upgrade to the 2.3L EcoBoost engine that cranks out 310 hp, while the 5.0L V8 can produce an incredible 435 horsepower, more than enough to put a little excitement into your commute.
Design: Modeled after the Mustang Fastback, the 2017 Ford Mustang honors the past while boldly setting the standard for future models. The interior of the 2017 Mustang is designed to combine form and function, creating a cockpit that will make your ride more productive and more comfortable. With an intuitive layout and features like leather seating, your 2017 Mustang will have you riding in style.
Technology: The 2017 Mustang is as smart as it is strong. Packed with the latest technology, the 2017 Ford Mustang features technology that will make your ride more enjoyable and more productive. Track apps let you take advantage of the Mustang's performance capabilities, while features like adaptive cruise control and Blind Spot Tracking keeps you safely on the road.
If you think the 2017 Ford Mustang is the right car for you, let us know! At Riser Ford, we want to provide you with the best car-buying experience possible, helping you find the vehicle you want at a price that works best. Speak with a member of our team to take a test drive and learn about any vehicle we have. Come by the dealership, call us at (844) 846-6956, or fill out our online form to get started. Come by today and get ready for Riser!
Riser Ford is proud to serve as the premier Ford dealership in Hot Springs and the surrounding area, including Benton, Arkadelphia, Malvern and the rest of the Diamond Lakes region.